Steering control arm
, also known as control arms or A-arms, are crucial components of a vehicle's suspension system. They connect the steering knuckle or hub assembly to the chassis frame or subframe, allowing for controlled movement and support. The design and materials used in control arms can vary depending on the vehicle and its intended use. Here are some common types of steering control arms and their characteristics:
Stamped Steel Control Arms: Stamped steel control arms are commonly found in many vehicles as original equipment. They are manufactured by stamping and forming steel sheets into the desired shape. Stamped steel control arms are generally cost-effective, but they may be heavier and less durable than other types. They can provide acceptable performance for regular driving conditions but may exhibit limitations under more demanding situations.
Cast Iron Control Arms: Cast iron control arms are made by pouring molten iron into a mold to achieve the desired shape. They offer improved strength and durability compared to stamped steel arms, making them suitable for heavy-duty applications and off-road vehicles. Cast iron control arms tend to be heavier, which can impact fuel efficiency and suspension response, but they excel in terms of ruggedness and load-bearing capabilities.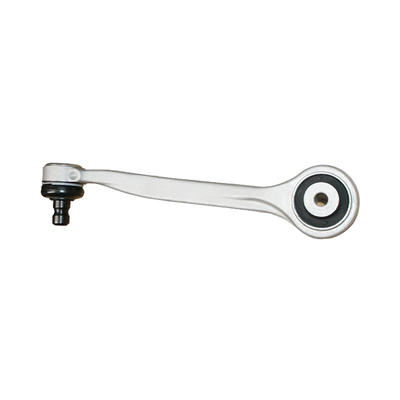 Aluminum Control Arms: Aluminum control arms are lightweight and offer advantages in terms of weight reduction and improved fuel efficiency. They are often found in performance-oriented or high-end vehicles. Aluminum arms provide good strength-to-weight ratio, allowing for better handling and responsiveness. However, they may be more expensive to produce than steel arms and could be prone to damage in extreme off-road conditions.
Forged Steel Control Arms: Forged steel control arms are created through a process of shaping and compressing heated steel into the desired form. This manufacturing technique results in a very strong and durable control arm. Forged steel arms can withstand high stress, making them suitable for performance applications and heavy-duty use. They are generally heavier than other types but offer superior strength and longevity.
The performance and durability of steering control arms depend on various factors, including the materials used, design, and manufacturing quality. While lighter materials like aluminum may improve handling and fuel efficiency, they might sacrifice some durability compared to heavier options like cast iron or forged steel. It's essential to consider the intended use of the vehicle and strike a balance between performance, durability, and cost when selecting control arms.