A control arm is a suspension component in a vehicle that connects the frame of the vehicle to the suspension system. It is a pivoting link that allows the suspension to move up and down while also controlling the position of the wheels.
In an Audi vehicle, the control arm is typically made of metal and is connected to the wheel hub assembly on one end and to the frame of the vehicle on the other end. It is an important component of the suspension system, as it helps to maintain proper wheel alignment and stability while driving.
If the control arm becomes damaged or worn out, it can cause issues with the handling and stability of the vehicle. Some common symptoms of a damaged control arm include uneven tire wear, steering wheel vibration, and difficulty steering. If you suspect that your control arm may be damaged, it is important to have it inspected and repaired by a trained mechanic as soon as possible.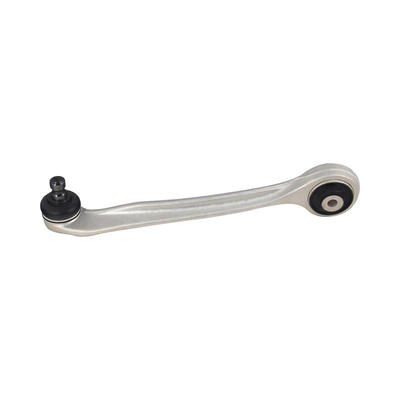 Sichuan Hongyi Intelligent Machinery Co., Ltd. is professional China Automotive Aluminum Steering Control Arms Manufacturers and Automotive Aluminum Control Arms Factory. Hongyi Intelligent Machinery is strong in technology and R&D, is the OE supplier of FAW Group Corporation and is recognized as a "high-tech enterprise" by the government. The company integrates a precision forging plant and a mechanical processing plant, based on high-grade and high-end markets, with an annual output value of up to 80 million yuan. For any customer orders for wholesale Automotive Aluminum Steering Control Arms, we will complete them on time, quality and quantity.