The lower swing arm, also called the lower control arm, is a very important part of the car suspension. When the lower control arm of the car is replaced, as long as the replacement is the same as the original size, tighten it according to the steps and torque in the maintenance manual. within the range), then the lower swing arm you replace will have no effect on the performance of the vehicle.
Generally, after the car has been used for about 6-8 years, the lower swing arm basically needs to be replaced, but in many cases, the rubber sleeve inside is replaced. If the rubber sleeve cannot be replaced, the entire lower control arm needs to be replaced. When replacing, the left and right wheels are replaced, and the price is about 800 yuan. If it is possible to replace the rubber sleeve, the price of replacing the rubber sleeve is equivalent to relatively cheap, only about 200 yuan. Let's analyze the function of the swing arm, the impact of the swing arm on the car and how to replace it correctly.
Lower swing arm structure and impact
The suspension is generally composed of a guide mechanism, a spring and a shock absorber, and the lower swing arm is the guide mechanism. As shown in the figure below, the structure of the lower arm is composed of a ball head and a rubber sleeve. The lower swing arm is used to transmit the moment between the wheel and the body, so that the wheel keeps moving within a certain range, and the lower swing arm also moves according to a certain trajectory. During the long-term use of the car, some car owners will accidentally scrape the lower swing arm, resulting in deformation of the lower swing arm, and aging and cracking of the rubber sleeve and ball joint within a certain period of time. If not replaced in time, it will lead to wheel alignment parameters. Misalignment, abnormal body noise and deviation, etc., so it needs to be replaced in time.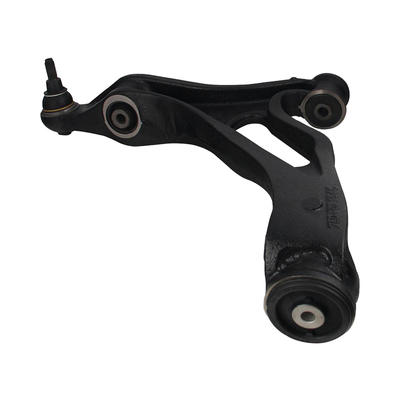 How to check and replace correctly?
For whether the lower control arm needs to be replaced, we can use the tool to slide the ball joint of the lower control arm up and down to see if the gap is too large, detect the aging deformation of the release of the rubber sleeve, and check whether the control arm has traces of aging deformation and impact corrosion, if there are any of the above needs to be replaced.
When the lower swing arm is disassembled, it is necessary to unscrew the stabilizer bar bolts fixed on the control arm, and special tools need to be used to disassemble the connection between the steering knuckle and the control arm, and then the control arm can be removed. Adjust the parameters of the four-wheel alignment, otherwise there will be failures, which will affect the handling and stability of the vehicle.