The function of the upper control arm of the car is to elastically connect the wheel and the body through a ball joint or a bushing, and as a guiding and force-transmitting element of the car suspension system, it transmits various forces acting on the wheel to the body, while ensuring that the wheel Move according to a certain trajectory.
An integral part of a vehicle's suspension system for more than a century, control arms allow the vehicle's suspension to move up and down while connecting the axles, hubs and knuckles to each other and to the vehicle itself. Essentially, the control arms allow the vehicle's suspension to flex according to road conditions, while also responding to the driver's steering inputs. They are considered essential for comfortable, smooth form. Some vehicles use one control arm per wheel, some vehicles use two (upper and lower).
The upper control arms usually have a wishbone (A-frame/A-arm) shape. Originally they were made of stamped and welded steel which is prone to corrosion. It was later produced in cast iron—particularly for heavier pickups and sport utility vehicles (SUVs). While cast iron control arms are very strong and durable compared to stamped steel, they are heavy.
These days, control arms are made of cast aluminum, which is lighter and less prone to corrosion than ferrous metal, but also more expensive.
Regardless of the material used for the upper control arms themselves, they are equipped with ball joints on the wheel side of the vehicle and bushings on the frame.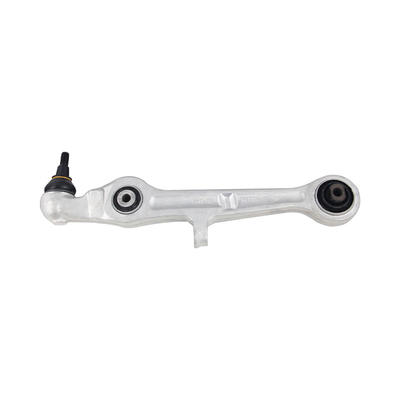 First Generation Hybrid Control Arm: An interesting aspect of the hybrid control arm developed by EV Iljin is that it contains a one-piece ball joint cap/cup that is formed during the injection molding process. In traditional metal upper control arms, the ball joint cap/cup is a metal box that is welded to the control arm. Its purpose is to limit the side-to-side motion of the ball and socket joint. However, this can lead to point stress on the bearing/ball joint and higher torque during operation. This, in turn, results in more axial "end play" or "play" (movement within the housing/housing), higher wear and running noise, and reduced service life.
In contrast, in a hybrid system, the space between the pre-lubricated ball joint cap/cup and the bearing (both inserted prior to injection molding) is encapsulated with the composite material during molding, eliminating the need for a butt weld wedge/box Required because the ball joint is effectively fixed in the control arm. Any stresses created during operation are more evenly distributed, reducing operating torque on the ball joint and reducing end play and wear, which promises to extend the life of the joint and control arm. In addition to weight savings and cost-competitiveness compared to traditional all-metal systems, extended service life is an important advantage of the technology.