Aluminum alloy die casting is a high-efficiency processing form for one-time forming. It can process structural parts with complex shapes, which means that it is widely used in automobiles and home bathrooms, but zinc alloys are not resistant to atmospheric corrosion, and copper and chrome protective decorative coatings should be plated on their surfaces. The matrix properties of the workpiece itself and other processing forms have a great impact on electroplating.


1. The material of alloy die casting is zinc-aluminum alloy, which are active amphoteric metals. Among the two metals, aluminum is more difficult to handle in pretreatment and electroplating, so it is necessary to control the aluminum content. Generally, the aluminum content (mass fraction) of the zinc alloy die-casting material for rust electroplating should not be greater than 4%, and the aluminum content should not exceed 4%. If it is too high, it will be difficult for electroplating to proceed normally.


2. The design of the parts should be reasonable, the shape of the die-casting parts should consider the coverage ability of electroplating, and minimize the non-through holes, so that it is not easy to carry the solution when washing. Reduce sharp corners and other parts, so that the power lines are evenly distributed during electroplating.


3. The aluminum alloy die-casting process and die-casting mold design are reasonable, so that the die-casting parts do not have defects such as shrinkage, pinholes and porosity, which will directly affect the bonding force of the coating.
4. In the aluminum alloy die-casting process, the segregation phenomenon should be minimized. It means that if there is aluminum segregation in some parts, when degreasing, the aluminum will dissolve first, which will produce pores and pinholes on the surface of the die casting and cannot be cleaned, resulting in poor adhesion. Causes peeling and blistering of the coating.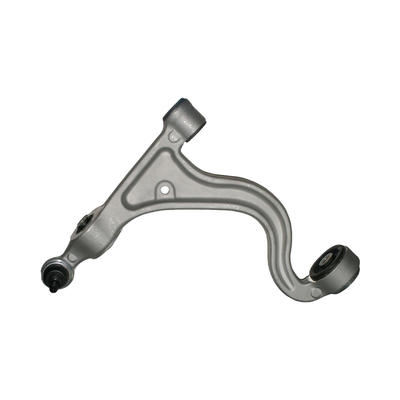 Sichuan Hongyi Intelligent Machinery Co., Ltd.
 is professional 
China PORSCHE Front Control Arms Manufacturers
 and 
OEM PORSCHE Front Control Arms Factory
. Hongyi Intelligent Machinery is strong in technology and R&D, is the OE supplier of FAW Group Corporation and is recognized as a "high-tech enterprise" by the government. The company integrates a precision forging plant and a mechanical processing plant, based on high-grade and high-end markets, with an annual output value of up to 80 million yuan. For any customer orders for 
custom PORSCHE Front Control Arms
, we will complete them on time, quality and quantity.